Welcome to the Ardis Missaukee District Library!
Thank you for celebrating 15 Years at this location! We enjoyed live music by George Gruenberg and harp player Sylvia Norris, refreshments catered by Marcia Lawton's "Heaven Sent" bakery (Lake City) and Morsels (Traverse City), beautiful flowers and table decorations by Arletta's Flowers (Lake City), and bag, bookmark, and pen giveaways. The Missaukee Sentinel and Cadillac News brought great coverage to this wonderful event. It was a lovely day to enjoy an open house, and say THANK YOU to Dr. Ardis' family and a great supportive community!

Click the gray box above to search for materials or renew items on your account.
Upcoming Events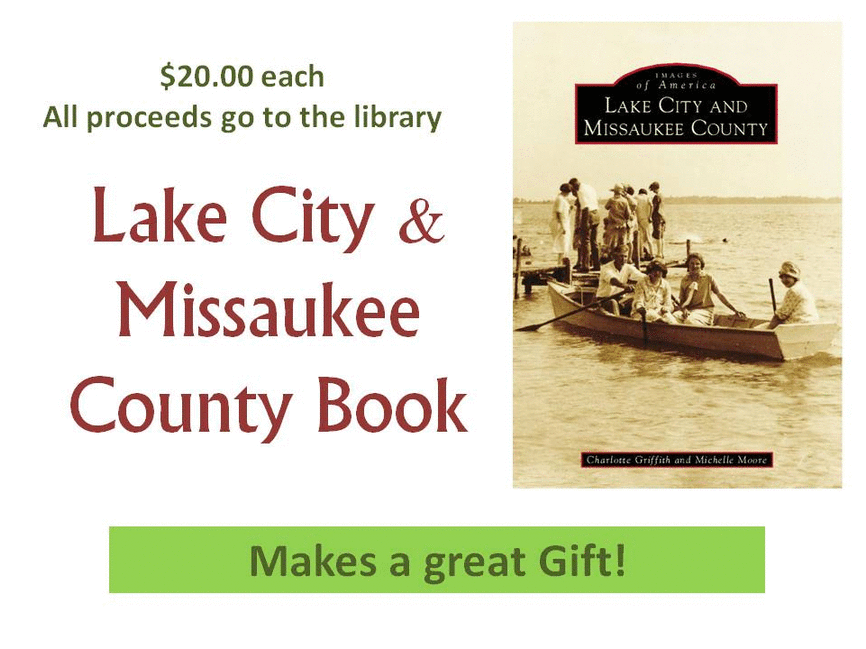 SAVE THE DATE!
Family Halloween Bash!
Join us on Friday, October 31st for games, candy, and a reflector craft.
Kids come in costume!
Library Fundraiser at B.C. Pizza in Lake City
Wednesday, October 1st
5-9pm
Enjoy the dinner buffet for a special price and support the library!
Teachers eat free, so bring your family down to B.C. Pizza on Wednesday, October 1st to support your local library.
Have you checked out an eBook yet?
Do you have an eReader, Kindle, iPad, computer, smart phone, or tablet?
FREE downloadable items available including eBooks, eAudioBooks, movies, & music!
Just click on a logo below to get started!
Original Site Kids eReading Room
Use your Ardis Missaukee District Library card number (14 digits) and the password is your last name.
Talking Book Library
Providing free recorded books to visually and physically impaired patrons in Grand Traverse, Antrim, Benzie, Kalkaska, Leelanau, Manistee, Missaukee and Wexford counties.
The Traverse Area District Library (TADL) Talking Book Library provides qualified people with visual and
physical handicaps with best-sellers, mysteries, westerns, biographies, how-to books and other types
of materials found in a public library. The only difference is that the books are digitally recorded on
cartridges or printed in Braille and mailed to patrons' homes through the regular U.S. postal service.
Just like standard print books, these publications are unabridged (not condensed) and contain all of the
information found in the print version - right down to the book jacket. And best of all, this service is FREE -
there is not even a charge to mail materials to or from the library.
You do not need to be legally blind to use our services. If standard print has become
difficult for you, a friend, or a family member, please call 1-877-931-8558.
TADL's Talking Book Library service is available to residents of Grand Traverse,
Antrim, Benzie, Kalkaska, Leelanau, Manistee, Missaukee and Wexford counties.
Our application can be found online at:
This program is made possible by the National Library Service for the Blind and Physically Handicapped at the Library of Congress in Washington, D.C. in conjunction with the Michigan Commission for the Blind's Braille and Talking Book Library and the Traverse Area District Library and its supporters.
Home School Families
The library offers many excellent resources for your home schooling needs:
Check out Practical Homeschooling magazine.

Use the link below to find information from the Michigan Online Resources for Educators including lesson plans.

Browse our collection of fiction, nonfiction, reference, and historical books

Take a computer class to learn new skills
They have a facebook page also: http://www.facebook.com/more.mel.org
Lake City & Missaukee County History Book
"Image of America Lake City and Missaukee County" book available here for $20.00
*****All proceeds benefit the library and Historical Society*****